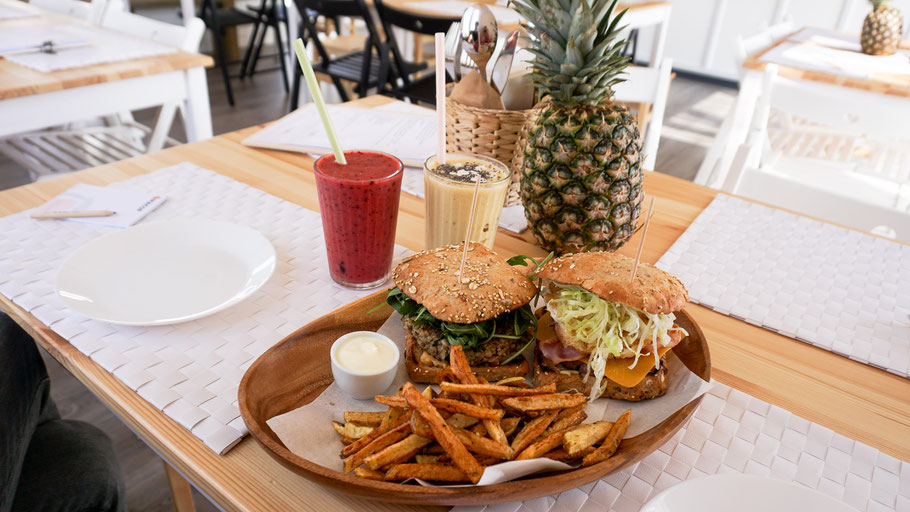 Aloha from Swell Café. Homemade Salads, Veggie-Burgers, fresh Juices and Smoothies are the best and healthiest option before or after a good session out there in Cabedelo, Figueira da Foz. 
Feeling hungry is an essential sensation for me, especially when I have been playing in the waves and had a good surf session. This kind of session when the waves are rollin´ in so perfect that you feel pure bliss to be out there in the blue, feeling the movement of the waves and being able to feel connected to the ocean with all his wonders. When you forget about everything just to take just another perfect wave. And if you surf as well, you know what I mean.
The surfspot called "Cabedelo", Figueira da Foz in Portugal is one of those places where you can find those lined perfection.  And to be honest, from spring to fall - when Europe is the nearest and cheapest destination for  surf tourism  ( for German, Swiss and English people for example) - nobody wants to keep his lunch box in the car when the sun is making it a sauna.  So what? Heading over to this new Surf Cafe if your´re hungry! Why? To fuel your body up for the next couple of ours in the water. 
Fresh and healthy food rich in vitamins, good carbs, fatty aids and just tastefulness will reload your muscles with power! You can choose between freshly pressed juice in different options or iced smoothies with superfoods like chia as a beverage. To carb yourself up take a homemade Veggie-Burger with lentils, red bell pepper and hummus or a big salad with salmon, cucumber and rucola. Try the fries! They are not greasy at all and super delicious and crispy. And if you are still hungry try the desserts. Home-made muffins, granola energy bars or just a fresh acai-bowl will let you feel happy and satisfied in the end. - For all the guys out there which prefer meat or "need meat" - you´ll also find enough options to make you happy. 
Enjoy and see you in the water ! xx Julia