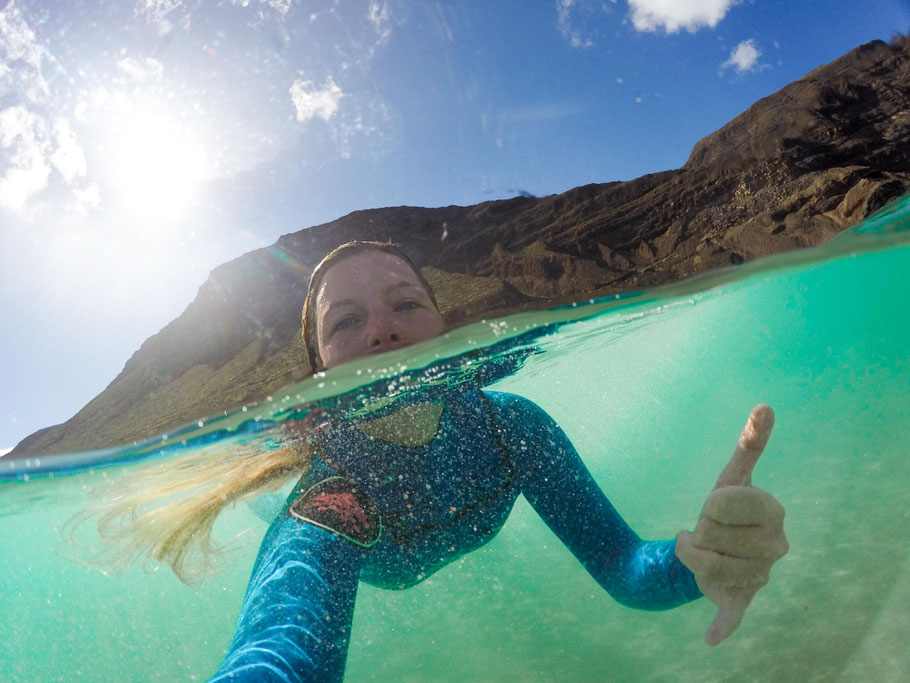 Aloha Lovelies,
as promised in my last post I´ll finally show you some of my Lanzarote water pictures and tell you a bit about our surfing experience there.  
We just tried 3 different spots placed overall on Lanzarote - two of them even really famous spots for this kind of sport. But I am sure there are a lot more to explore but we just hadn´t enough time. 
First we visited "La Santa", a reefbreak and a righthander. I wasn´t in the water because it was really big, but my boyfriend tried his luck and was stoked. And even to sit on the rocks and watch this cristal-blue-turqouise waves rolling in is magical. Even normal tourists coulnd´t resist to take pictures of this view. 
The second spot we tried is called "Famara", the most famous bay for all kind of water sports which involve a board. If there is no wind and good swell all the surfing people of Lanzarote are there. And because the bay and the variety of waves and peaks is big enough, normally everybody is happy. The surf schools have their spot and also the locals. So there are no bad vibes. And if there is too much wind the kite surfers come and enjoy the conditions as well.  Due to bad wind conditions we didn´t went in the water, but our friend who lives there told us about quite good sessions he had there.
The last spot we tried was more per accident and because we had an urgent need to go surfing. So we checked the wind and swell-direction and just tried our luck up in the North of Lanzarote. And we found waves. Smaller ones but they were a lot of fun. The first day nobody was in the water with us - and just take a look at the pictures - crystal clear and really warm with about 22 degrees Celsius. The second day we had to share the lineup with three more people. All nice and friendly. 
All in all surfing there was a amazing with the view and the water, although the waves were not the best. I am sure we would have found more of this hidden waves if we would have searched for them. All in all we are used to better waves, but this was maybe caused by the strong wind we had this week and a really strange big to small swell.  But we were happy and it was a complete different surrounding and different conditions from our homespot. So we will definitely come back one day.  
xx, Julia